Greater Prairie Chicken Lek Tours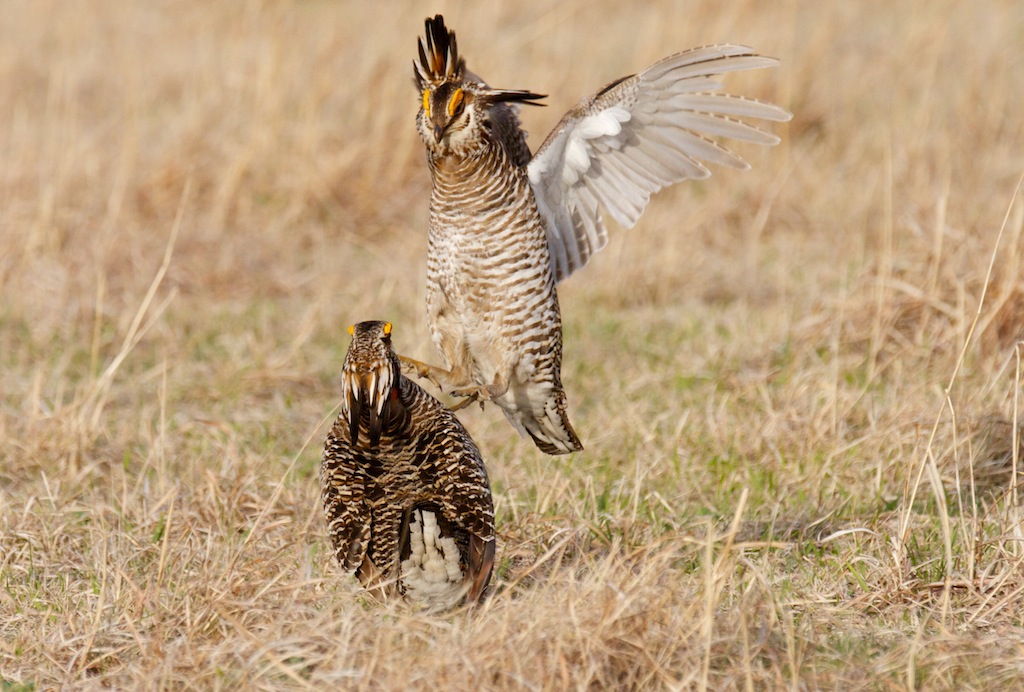 Just before the sun rises over the vast grasslands each Spring, while most people are still snug in their beds, Prairie-Chickens are busy putting on a show that is critical to their survival.  Male Prairie-Chickens strut around on communal mating grounds known as "leks," where they fight, call, and dance to win the affection of females.  Only the best males are chosen to mate.  On a still morning on the prairie, their call, called a boom, can be heard over a mile away.  It is one of the most fascinating and unique natural phenomenon people can watch.  Lek tours draw people from around the world each year to the Great Plains.
The Kansas Wetlands Education Center, invites you to come and witness this wonderful show during a Greater Prairie-Chicken Lek Tour.  Staff will drive you to a local Greater Prairie-Chicken lek, where there is a trailer blind sitting.  From the blind, you will be able to observe the Prairie-Chickens on the lek, and the guide will be there to tell you all about these interesting birds and the incredible spectacle. 
Fieldtrips will be available to the public only on select days throughout the end of March through April by reservation only.  A schedule of available tour dates is listed above.  Reservations must be made at least two days prior to the field trip.  Seating is limited to 6 people and is limited to ages 12 and older.  Participants will meet at KWEC by 5:20-6:00am depending on the time of sunrise.  Transportation to the lek will be provided.  Participants should plan on being in the blind for at least 4 hours with no facilities available.  Cost is $40 per person.  Please call the KWEC at 877-243-9268 to register and receive more information.
WHERE:  Participants will meet at the KWEC at the time designated above.  We will then have about a 25 minute drive to the lek site, which is on private property.  We will use a trailer blind to view the prairie chickens.
WHEN: Select dates through March and April 2022 
            Thur, March 24 (meet at 6:00am)
            Sat, March 26 (meet at 6:00am)
            Mon, March 28 (meet at 6:00am)
            Tues, March 29 (meet at 6:00am)
            Fri, April 1 (meet at 5:45am)
            Sat, April 2  (meet at 5:45am)
            Tues, April 5 (meet at 5:45am)
            Tues, April 12 (meet at 5:30am)
            Fri, April 15 (meet at 5:30am)
            Tues, April 19 (meet at 5:30am)
COST: $40 per person; People can pay the day of the tour.
REGISTRATION:  Participants MUST register for these tours. **Participants can only sign up for one date.  They can be placed on a wait list for up to 2 additional dates, if spots are available.
Space is limited to a max of 6 people for each date
Participants must be Age 12 and older
Participants must be able to sit in a blind for up to 4-5 hours with no facilities
Participants must be able to step up two 12" steps into the blind
Participants must be able to walk approximately 200 yards through a pasture
Dress appropriately (temperatures can be quite cold; while inside a blind, it is still cold)
Cameras and tripods are allowed. We recommend silencing any noises on your cameras.
The closest birds are typically 20-25 yards from the blind
If inclement weather is forecasted, we will be in contact with registrants