Scenic Byway
Wetlands and Wildlife National Scenic Byway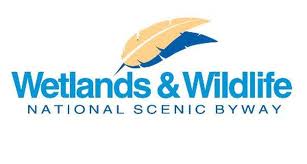 America's Byways traverse some the most awe inspiring landscapes from sea to shining sea. The Wetlands and Wildlife National Scenic Byway  links two very important wetland ecosystems, Cheyenne Bottoms and  Quivira National Wildlife Refuge.
Download: Wetlands and Wildlife National Scenic Byway Map
Flyover country you say? Kansas's wetlands are the hub of the Central flyway. A multitude of migrating waterfowl and shorebirds stopover and refuel at Cheyenne Bottoms and Quivira before continuing their long journeys. It has been estimated that 45% of all migratory shorebirds nesting in North America stage at Cheyenne Bottoms, including more than 90% of the continent's populations of Wilson's Phalarope, Long-billed Dowitcher, White-rumped Sandpiper, Baird's Sandpiper and Stilt Sandpiper. Hundreds of thousands of geese, ducks, and cranes find refuge at Quivira each Fall. It's no wonder that both areas have been designated Wetlands of International Importance. Visit Barton County  eBird Sightings page for details on the most recent observations.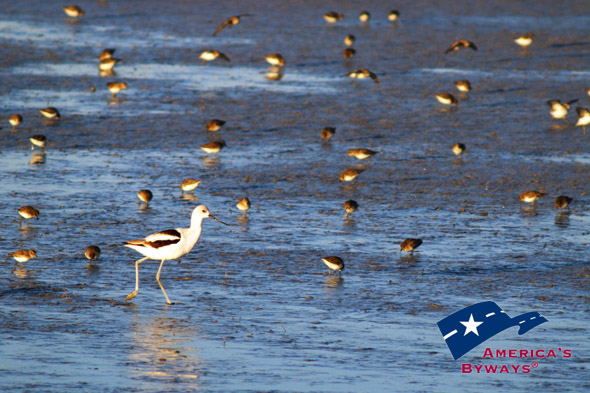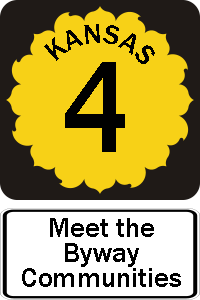 Motion and Change
Escape the doldrums of interstate travel and experience the motion and change of the Wetlands and Wildlife National Scenic Byway.  From I-70, take exit 184 at Russell and drive south 12 miles on Highway 281, the Byway begins at the intersection of Highways 281 and 4. Four miles north of St. John marks the southern end of the Byway. Along the 77 mile stretch of plains, prairie, and wetlands you'll discover historic sites, compelling stories, and charming rural communities shaped by the motion and change of the people and nature. For more information about the Byway, call the Great Bend Convention and Visitors Bureau at 620-792-2750.