School Programs
The Kansas Wetlands Education Center offers several science- and nature-based school programs as field trips or outreach in your school classroom or facility.
Programs are designed to run approximately 45 minutes to one hour, depending on student age and class needs. Programs combining trips to the Bottoms and/or hikes with classroom time may run longer than one hour. Programs feature live animals and plants where possible and/or hands on materials and activities.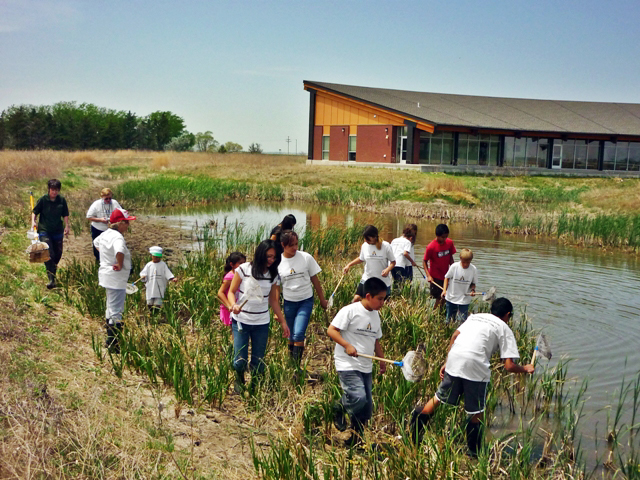 Programs are provided free of charge if scheduled at least two weeks in advance. A small mileage fee may be charged for travel to schools located over 75 miles away from KWEC.
The preferred maximum number for each class is 30 students, but larger groups can be accommodated by rotating students among several programs/activities. For hikes, 25 or less students is preferred.
Links to a full list of program offerings are below.  At the end of each program description is a list of Kansas state science standards met for each age group. Some programs are created with a certain age group in mind, but programs can be adjusted to the specific age group of your students. Please refer to the science standards for age appropriateness.
Please contact us if you do not see a program topic that you are interested in. Modifications can be made to existing programs or new programs can be created to meet your curriculum needs.
To schedule a program, or for more information, please call KWEC toll free at 1-877-243-9268, Monday through Friday, 9 a.m. to 5 p.m..
K-6 Programs:
A Butterfly's Journal
Cheyenne Bottoms' Spring Chorus
Birds:  Nature's Marvelous Flying Machines
Create a Bird
Making Tracks
Is it Reptile or Amphibian?
Wonderful Wetlands
Cottonwood: Tree of the Great Plains
Mammals R Us
Wetland Plants
Pollinators: Plants' Best Friends
Extraordinary Eggs
Water Cycle
Cheyenne Bottoms and Water
The Plant World of Cheyenne Bottoms
Survivor!
Alien Invaders
Individual Bird Adaptation Programs:
The Case of the Hungry Owl
Bills and Feet
Have Wings, Will Travel
Home Life
Outdoor programs available at the Kansas Wetlands Education Center during spring and fall:
Habitat/Seasonal Hike
Wetland Study
Insect Search
Special Programs
Kansas Day Symbols
Halloween Critters
Turkey Talk
Baby Animals
Download:   Grades K-6-Full Program Descriptions
Contact -wetlandscenter@fhsu.edu- KDWP Education Specialist to schedule a K-6th grade program 
Seconday Programs - Middle School (Grades 7 – 8) and High School (Grades 9-12)
Classroom/Outreach Programs:
Virtual - Wetland Metaphors
Wetland Wonders
Power of WIND
Wetlands STEAM
Motus Wildlife Tracking System
Anatomy of Flight
BFFs Forever
Green Schools Investigations
History of Cheyenne Bottoms
Jr. Duck Stamp Program
A Sand County Almanac
Programs available at the Kansas Wetlands Education Center:
Cheyenne Bottoms Tour
Water Canaries
Small Mammal Trapping
Merlin
Geotrooping
Wetland Forensics
iNaturalist
Special Programs

World Wetlands Day (Scheduled in February)
World Shorebirds Day (Scheduled in September)
We can also provide assistance in preparing your middle school and high school students for the Kansas ECO-MEET in the fall.
Download:  MS.HS Programs
Contact - Mandy Kern - FHSU Program Specialist to schedule a 7th-12th grade program