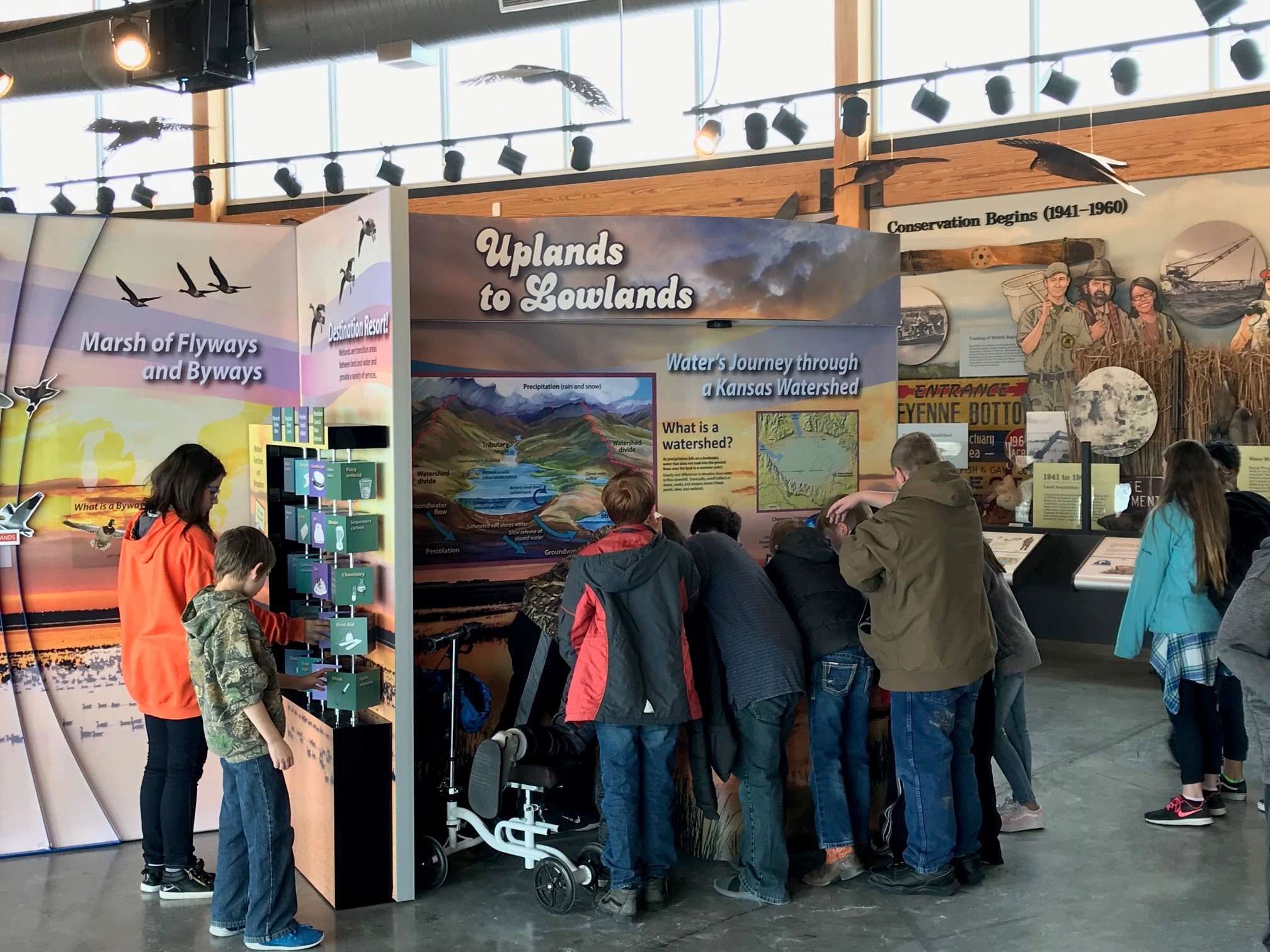 The Kansas Wetlands Education Center building offers a panoramic view of our mitigation marsh. We have binoculars and spotting scopes available to help you get a closer look at the wetlands and wildlife outside the Center. Visitors enjoy the sights of birds at the feeder, frogs sitting at the water's edge, blooming sunflowers, harriers gliding over the marsh, and whatever surprises nature has to offer.
Koch Wetlands Exhibit
What are wetlands? Why do birds migrate? What plant and wildlife communities are found at Cheyenne Bottoms? Discover the answers to these questions and more in the Koch Wetlands Exhibit. The exhibit features interpretive displays, historical and cultural artifacts, hands on activities, and natural history collections. Funding for the Koch Wetlands Exhibit was provided by the Fred C. and Mary R. Koch Foundation.
KWEC Exhibit Enhancement Project
Thanks to a donation from the Dorothy M. Morrison Foundation, KWEC completed an exhibit enhancement project in November 2018. The project added 9 new exhibits with 14 interactive pieces. The new exhibits include a one-of-a-kind wetland floor projection game, augmented reality watershed simulator, wetland children's activity area, build a bird and build a plant stations, shorebird and wetland plant adaptation magnetic boards, aquatic invertebrate viewer, and wetland critter doors.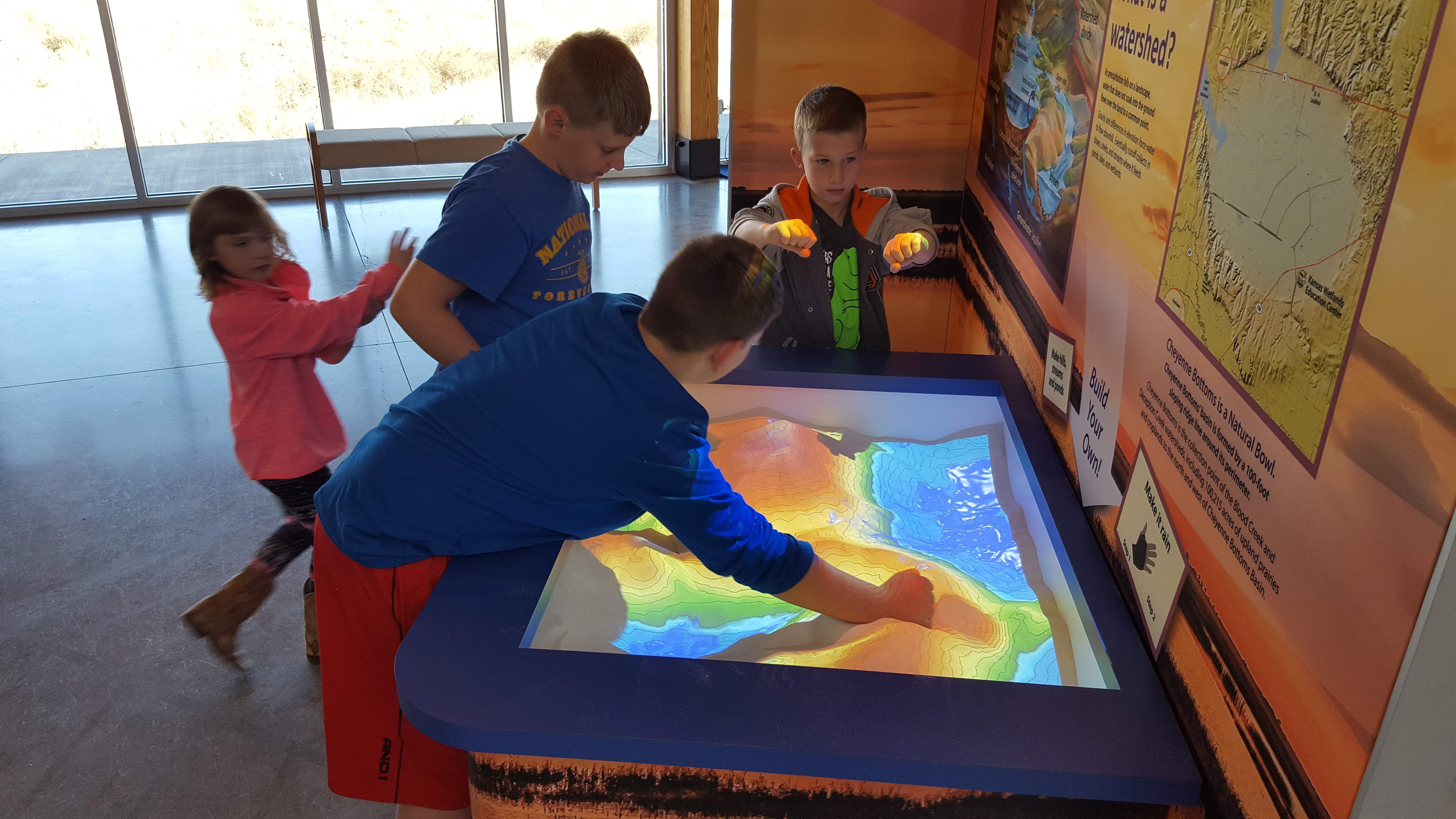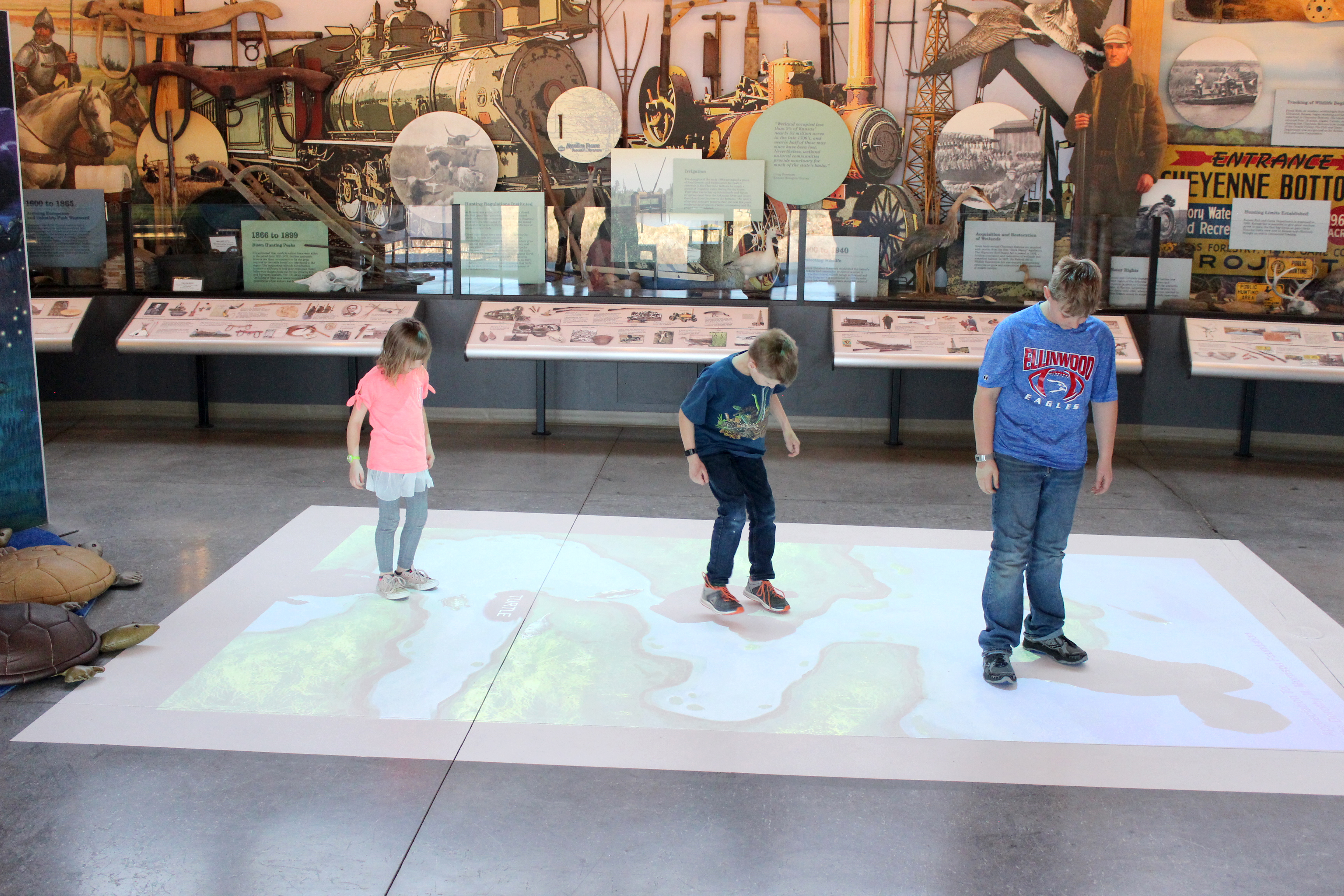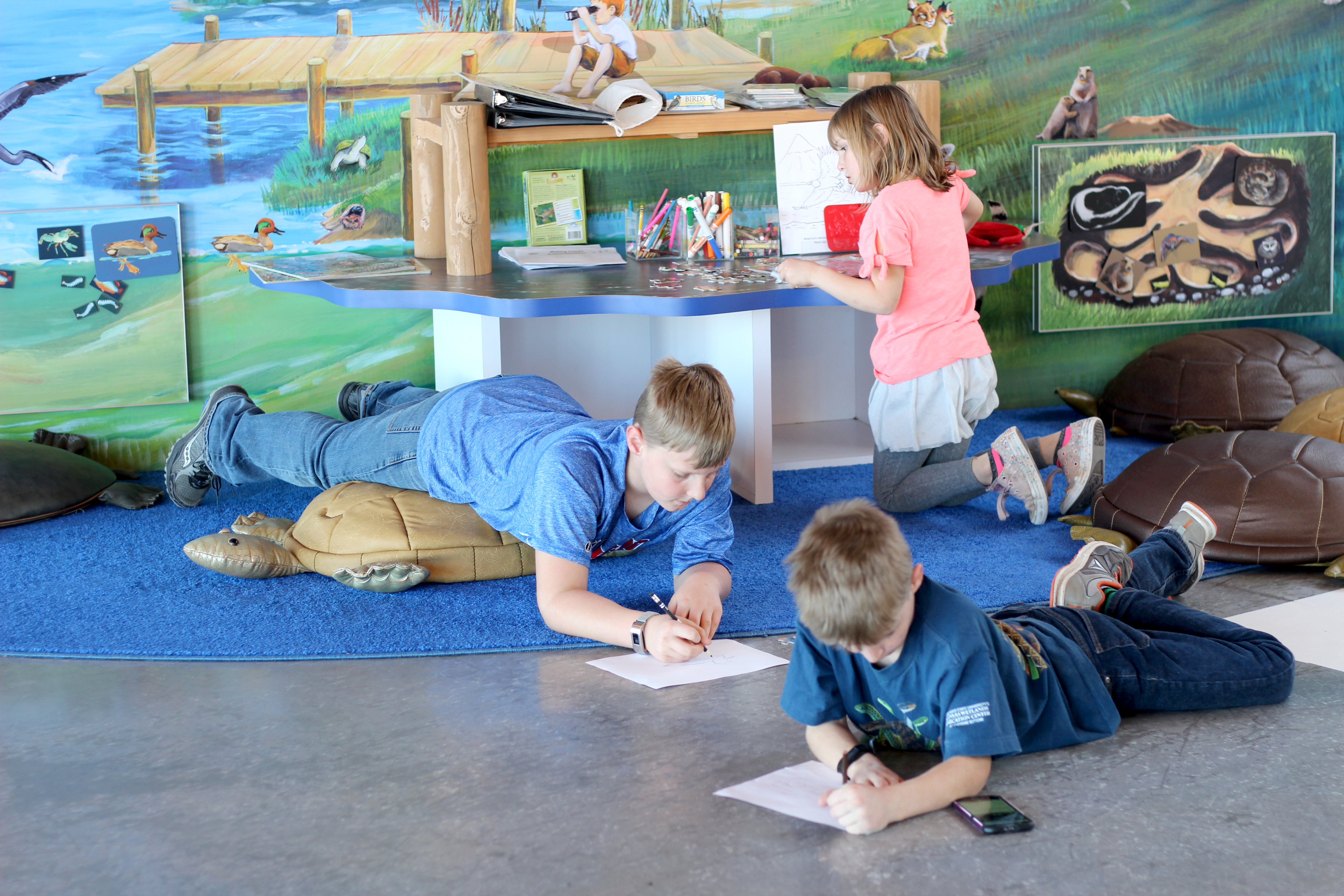 Classroom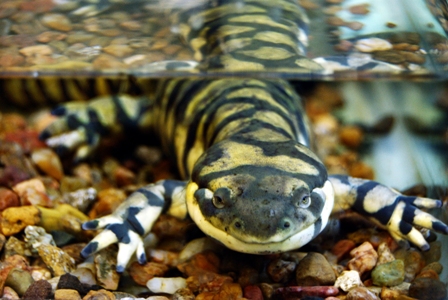 Lizards, and turtles, and bats! Oh my! Inside our classroom you will find an assortment of live critters that are native to Cheyenne Bottoms. The education animals visit area schools to enhance learning programs provided by our environmental educators.
We have seating for class field trips and table space for arts and crafts activities. Visit our event calendar for a list of upcoming program offerings.
Our classroom was made possible through a family donation in memory of H. Lee Turner.
Artwork
Cheyenne Bottoms is an inspiration for many artists. As you arrive at the Kansas Wetlands Education Center, you'll be greeted by metal banners depicting wetland scenes. Artists Bruce and Brent Bitter, of B & B Metal Arts, are located in nearby Hoisington, KS. The banners also stand as a memorial to Donald Haines, who passed away in May 2009. Donald and his wife Dorma , lived in Great Bend, for 31 years and spent many hours at Cheyenne Bottoms. Donald was an avid outdoorsman and enjoyed hunting and fishing at the wetland, which was the basis of the design of the two banners in his memory. One banner shows 3 blue-winged teal in flight with a waterfowl hunter and dog in the background. The other banner is of a great blue heron in flight with a fisherman in the background. The banners are an attraction by themselves, and are an interesting extension of the Koch Wetlands Exhibit gallery and the Wetlands Gift Store, which sells other metal art pieces by the Bitters. For more metal art, take a stroll through Hoisington, which features 62 pole art banners.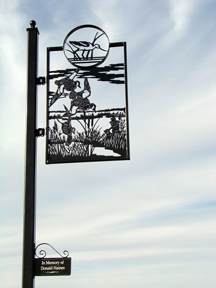 In the auditorium is an original painting, titled "Future Flight" by Margaret Parham Taggart. The painting shows two Canada Geese with six young geese emerging from a goose nest box structure. For a period of time many thought the Giant Canada Goose (Branta canadensis maxima) to be extinct. The earliest documented efforts to restore resident Canada Geese in Kansas occurred at the Kirwin National Wildlife Refuge and Cheyenne Bottoms in the late 50's and early 60's.
The Margaret L. Parham Taggart Memorial Fund was established in 1988 in conjunction with the Wildtrust program. Proceeds from the original sale of the prints went toward conservation efforts at Cheyenne Bottoms. Later, the family decided that when a visitors' center was built at Cheyenne Bottoms, the original painting and remaining prints would be housed and sold there. Limited edition prints of the painting are available in the Wetlands Gift Store with proceeds going toward education programs at the Kansas Wetlands Education Center. Along with the painting and prints, a cash donation was made to the KWEC from the memorial fund. The painting adds another visual piece of the storied history of Cheyenne Bottoms to the KWEC's growing exhibits.