The Wetland Explorer – 101 Ways to Help Birds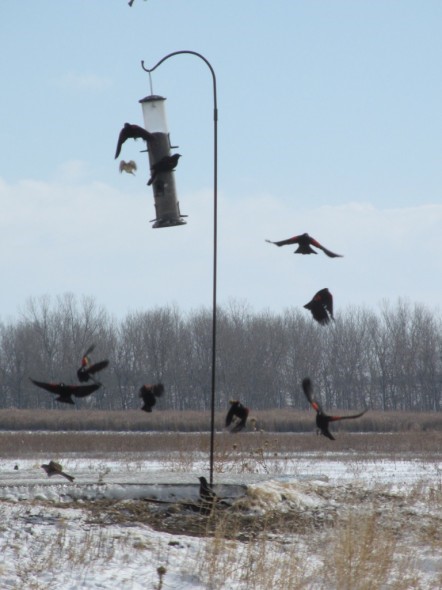 This article appeared in the Great Bend Tribune on Sunday, May 19 as part of the monthly KWEC column, The Wetland Explorer.
Saturday, April 27 was one of the bigger days of events for the Kansas Wetlands Education Center with three very different scheduled events taking place. The morning had the first-ever Wild Goose Chase 5k and 1 mile Fun Run at Cheyenne Bottoms with 160 participants running or walking over the dike roads.   For many of the participants, this was their first time at Cheyenne Bottoms.
After the race, race participants and other members of the general public were treated to a Kansas Raptor program by Vanessa Avara, Assistant Director of the Milford Nature Center. Vanessa showed several live birds of prey from their collection of program animals, including a Great-horned owl, Barn owl, Turkey vulture, American kestrel, and a Red-tailed hawk. The KWEC was a busy place that morning.
Events continued to the evening with a program by author, radio show producer, and bird enthusiast Laura Erickson, from northern Minnesota. Laura's program was based off of one of her popular books, 101 Ways to Help Birds. Although there was not a big crowd in attendance for the program, Laura gave some excellent insights into some of the problems birds face and what we all can do to change that trend.
She did not cover all 101 items from her book; however, she talked about numerous actions and events that have greatly impacted bird populations. At first, the program seemed like nothing but gloom and doom for our feathered friends. And unfortunately, most of the items she presented were directly related to humans and human actions. She talked about the DDT pesticide use in the 1950's and 1960's and its huge effect on song birds and raptors. She also talked about how habitat fragmentation by our roads and development has caused many of our birds to vanish. Oil spills, collisions with windows and vehicles, and nighttime lighting have also killed millions of birds over the years.
Several other ways we affect birds that she presented were not as obvious. Several recent studies have suggested that feral or free-roaming cats kill an estimated several billion birds every year.   She also suggested that in feeding birds, we often subsidize feeding undesirable, invasive, or non-native birds, such as American crows, Brown-headed cowbirds, and European starlings, respectively. Our intentions are good, but the consequences of this can be very detrimental to the birds we would like to help. 
In the end, Laura gave us all a glimmer of hope by saying "we can't do everything possible to help birds. But some things are easy and important!"  We have used the Wetland Explorer column numerous times to give readers some simple ways to help out our local wildlife, such as making sure to provide food and water during the winter, planting native plants in our gardens, and moving turtles across the road. Laura offered many other suggestions, such as buying an annual duck stamp, which provides funding to save wildlife habitat (not just ducks), aiding scientists by documenting birds we see on eBird, buying shade-grown coffee, and conserving energy.
Above all, Laura urged us all "to be mindful" of the wildlife we enjoy. Even a few small actions around your house can benefit birds and wildlife. Take some time this spring to evaluate your lifestyle and see if there are even a few things you can do to help birds and wildlife and become a better steward of our natural resources.