Meet the Critters! The Great Plains Toad
Our classroom is home to over 30 live critters native to Cheyenne Bottoms. This week, we'd like to introduce you to the Great Plains toad. We have two Great Plains toads here at KWEC, a male and a female.  This nocturnal species is very long lived, up to 10 years in captivity.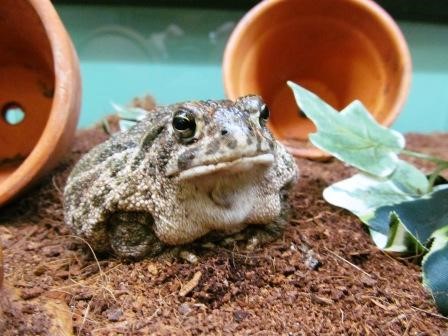 The Great Plains toad is found throughout the western United States. They prefer to live in grasslands near water, which makes Cheyenne Bottoms ideal habitat. These toads can grow up to 4 and a half inches in length. The Great Plains toad breeds during the spring and summer, and a single female can lay up to 20,000 eggs! The male attracts his mate with a loud, chirping call.
Hognose snakes, Great Plains garter snakes, raccoons, and skunks are the Great Plains toad's main predators. It isn't defenseless, though. The parotoid glands behind its eyes secrete a poison that is extremely distasteful to any would be predator.
The Great Plains toad eats a wide variety of invertebrates, including ants, flies, spiders, moths, and crickets. Their primary food source, however, is cutworms, making them a very beneficial critter for farmers. Their value to agriculture on a yearly basis in Oklahoma has been estimated at $25 per individual toad.