White Ibis spotted at CBWA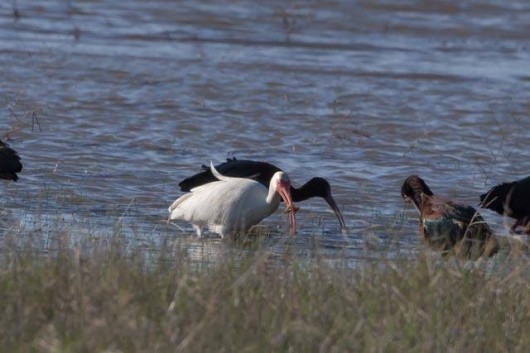 A White Ibis was observed at Cheyenne Bottoms Wildlife Area on Saturday, April 30 about 1 mile NE of the KWEC building along K-156 Hwy.  The bird, an adult ibis, was with a group of about 150 White-faced Ibis.  According the Robert Penner's book The Birds of Cheyenne Bottoms, this is only the 7th record of White Ibis at Cheyenne Bottoms over the last 40 years.  And, according the The Birds of Kansas there are only 14 records of this species in Kansas, and most of the records are of juvenile birds.
White Ibis are common birds in the deep South of the United States, commonly seen along the coast.
Updates:
May 2–The bird was observed during the morning feeding about 1/2 mile East of the KDWPT office.
May 1–The bird was observed presumably roosting in Pool 2.